Nautical for 2012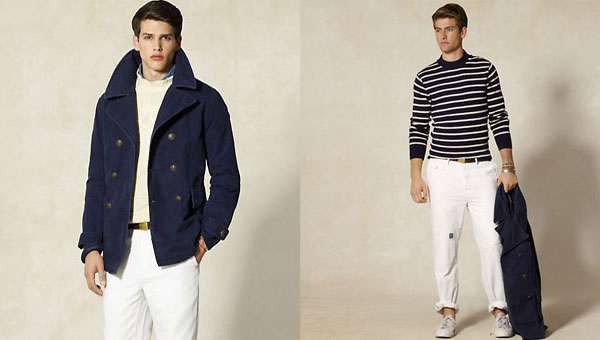 It's almost Christmas and aside from looking back at 2011, it's also time to look forward to what 2012 has in store. To fill the gaps between Autumn/Winter and Spring/Summer collections many high fashion houses show a 'Cruise Collection'. Aimed historically at people taking cruises South to warmer climes, these collections would often have a nautical theme as the rich and carefree sailed off on ocean liners.
It's with this in mind that I look at the lastest collection from Rugby Ralph Lauren for early 2012. The theme is definitely nautical but feels much more like work than play at sea. The palette is very much white/cream and navy. More than simply Breton Stripes (although they do feature), there is more than a passing nod to what feels like British Naval heritage, with mockneck sweaters embroidered with a royal crown and navy pea coats. The colour navy was in fact named after the sea-faring armed force and not vice-versa.
On a side note, one of my favourite bits of menswear trivia: "The term 'pea coat' originated from the Dutch word pijjekker. Pij referring to the type of heavy twilled blue cloth from which the coats are made.
Coincidentally I've just bought a new LL Bean Norwegian sweater, which as well as being a prep staple, is based on the sweaters of Norwegian fishermen.
It feels like during the chilly start to 2012, we may all being keeping warm using the same tried and tested clothing that has kept sailors and fishermen safe and dry all these years.

Breton stripe sweater, Rugby Ralph Lauren


Cream mockneck sweater, Rugby Ralph Lauren


Navy mockneck sweater, Rugby Ralph Lauren
You can shop the Rugby Ralph Lauren collection here:
Rugby new arrivals for 2012
And LL Bean's Norwegian sweater here:
Bean's Norwegian Sweater